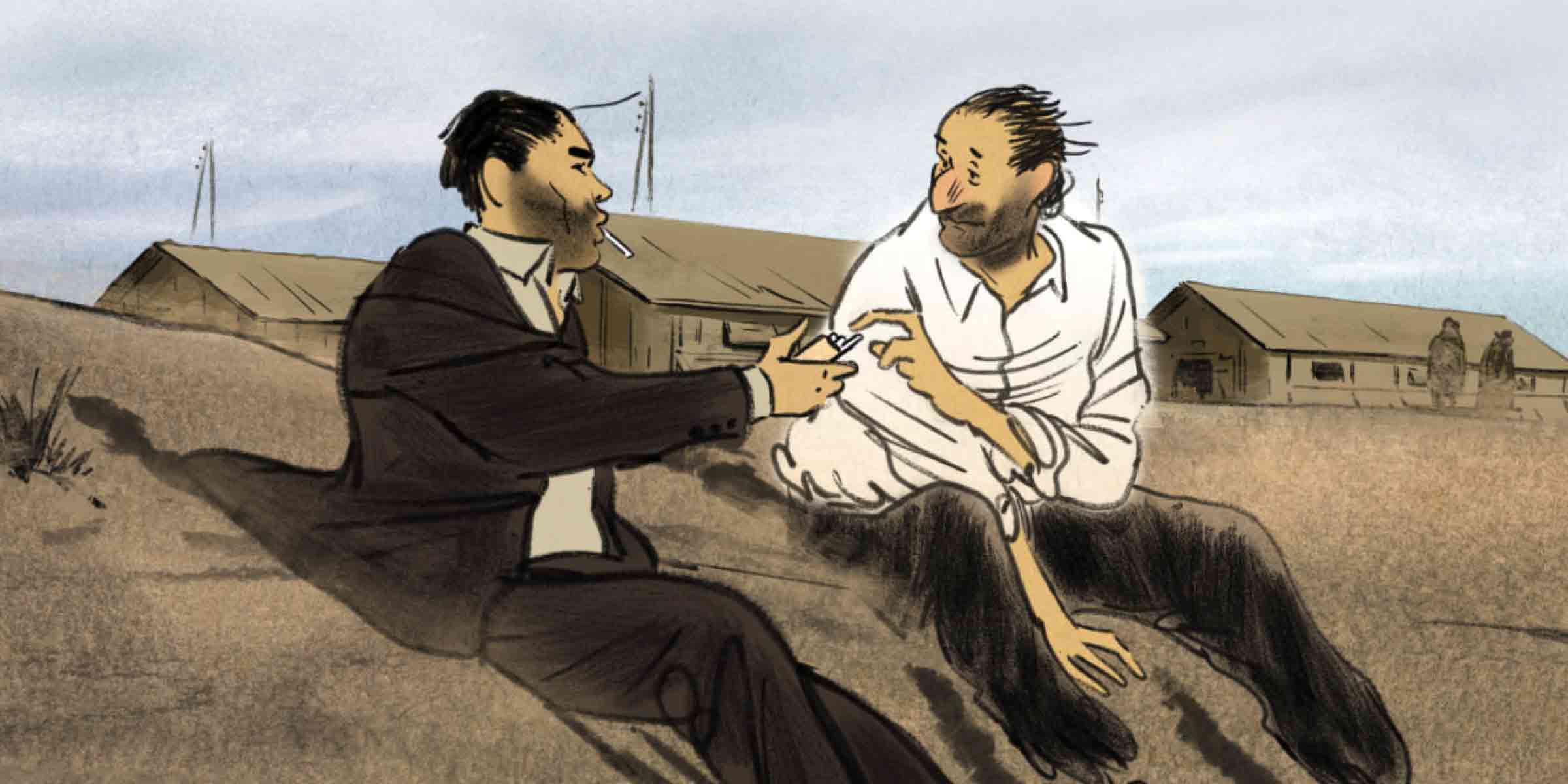 A tribute to the Republican exiles in France through the perspective and experiences of the Catalan artist Josep Bartolí
A tribute to the Republican exiles in France through the perspective and experiences of the Catalan artist Josep Bartolí
Animation cinema
Biopic
Historical memory
Inundated with the floods of Spanish Republicans fleeing the Franco dictatorship in February 1939, the French government finds no other solution than to send the refugees to concentration camps. Run-down places where the horses that have transported them outside their country are their only food and where the lack of hygiene and water takes many of them to their death. But in these appalling conditions, two men separated by barbed wire will become friends. One is a gendarme; the other, Josep Bartolí, an anti-Franco fighter and artist. An animated film selected for Cannes 2020. 
Artistic team
Artistic team
Direction:

Aurel 

Author:

Jean-Louis Milesi 

Original music:

Sílvia Pérez Cruz 

Lead performers

: Sergi López, Bruno Solo, David Marsais, Gérard Hernandez, Valérie Lemercier, Thomas Vdb, Sílvia Pérez Cruz, François Morel, Alain Cauchi and Sophia Aram 

Production:

Serge Lalou – Les Films d'Ici Méditerranée 

Coproduction:

Jordi B. Oliva – Imagic Telecom & France 3 Cinéma 

Executive production

:

Catherine Estèves – Les Films du Poisson Rouge 

Co-production of the animation studios:

Les Films du Poisson Rouge, Lunanime, Promenons-nous dans les bois and Tchack, In Efecto and Les Fées Spéciales 

Associated production:

Guilhem Pratz, Juan-Carlos Concha Riveros, Johan de Faria, Sébastien Deurdilly (Upside Films) and Les Films d'Ici 

With the institutional collaboration of:

Région Occitanie, Mémorial du Camp de Rivesaltes, Région Nouvelle-Aquitaine i Département de la Charente, Région Grand-Est, Centre National du Cinéma et de l'Image Animée, PROCIREP, ANGOA, SACEM, SOFICA Palatine Étoile 16, Tax Shelter (Gobierno belga), Belga Production and Luminvest 

With the support of:

La Revue Dessinée 
+ Info
State: Spain / France / Belgium
Film in French, Catalan and Spanish with subtitles in Catalan
Session presented by Àngel Quintana and Guillem Terribas, with the presence of Aurel.
The Temporada Alta film programme is made in collaboration and coordination with the Col·lectiu de Crítics de Cinema de Girona / Cinema Truffaut
If you like this show, we suggest you...