What is el Club de Mecenatge?

El Club de Mecenatge is made up of more than 80 companies with very different dimensions and sectors that support Temporada Alta. Its altruistic contributions are essential for maintaining the vitality of one of the national and international festivals.

The Temporada Alta patronage programme is aimed at all those companies with cultural sensitivity, a passion for the performing arts and a close relationship with the territory. Companies that wish to promote culture, strengthen the social and educational commitment of the Festival, and be part of a culturally restless club with many years of history.

In return we offer a wide range of counterparts in the field of prestige, brand image and public relations. All in all, of course, complemented by the access to the shows and the seats.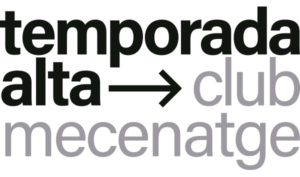 Its format of collaboration between the private and the public sector allows the Festival, despite being set up on a private initiative, covering a need for public interest for the culture of our country. For us, Temporada Alta is synonymous with culture, land, country, people, social responsibility, creativity, innovation, effort, entrepreneurship, internationalization, added value … And many more virtues that, at Axxon, we like to be part of. Congratulations!"
Quim Arpí / Axxon Managing Director
"Very happy to continue participating in an important event, of the quality of Temporada Alta, thanks to which we have the luxury of enjoying a good selection of shows in our city.
This small contribution, which is part of our contribution to patronage, allows us to share social activities linked to culture with our collaborators."
Jaume Guàrdia Pont /CEO Concentrol Chemical Solutions
"I have always thought that one of the things that unites people is artistic expression. Especially theatre, dance and performing arts in general reflect universal aspects of the human being with which we all identify at one time or another. When you are a spectator, in some way you are watching the representation of some moment of your life, the expression of your fears and your desires and the manifestation of the bottom of your soul. Performing arts end up being a beautiful way with which we humans find ourselves. Supporting the Temporada Alta initiative, I feel that I am helping my fellow citizens enjoy this experience with as much intensity as me. And I'm particularly proud of it."
Jan Andreu / CEO Grup Andreu
"Temporada Alta is a consolidated reality in the panorama of the performing arts with a dimension that, year after year, exceeds its own limits. Not only because of it's program, with the best releases of each season, but also producing and stimulating the dissemination of new artistic talents. For Cafès Cornellà, being part of the group of entities integrated in its Club de Mecenatge has been an enormous satisfaction and a great opportunity to contribute to the development of the culture of our land.
Pere Cornellà / Cafès Cornellà Managing Director
Do you want to be part of the Club de Mecenatge?