Depois Do Silêncio (After the silence)
Christiane Jatahy
Christiane Jatahy's new play, a mixture of cinema and theater with a social background
Christiane Jatahy's new play, a mixture of cinema and theater with a social background
Colonialism
Colonialism
Theatre and cinema
Theatre and literature
The international Brazilian director Christiane Jatahy closes her trilogy on violence by once again combining cinema and theatre in a project that features condemnation of colonialism, capitalism and the resistance movements of the dispossessed.
Artistic team
Artistic team
Author: Christiane Jatahy, based in Torto arado, d'Itamar Vieira Jr
Cast: Gal Pereira, Juliana França, Lian Gaia and Aduni Guedes, and on the film, the participation of the residents of the communities of Remanso and Iúna (Chapada Dimantina, Bahia, Brasil)
Artistic collaboration, stage space and lighting: Thomas Walgrave
Costume: Preta Marques
BSO: Vitor Araujo and Aduni Guedes
Sound space: Pedro Vituri
Photography and camera: Pedro Faerstein
interlocution: Ana Maria Gonçalves
Videosystem: Julio Parente
Body training: Dani Lima
Overtitles: traduction by Pol Gallart
Production: Cia. Vertice – Axis productions
Coproduction: Schauspielhaus (Zuric), Le Centquatre (París), OdéonThéâtre de l'Europe (París), Wiener Festwochen, Piccolo Teatro di Milano – Theater of Europe, Arts Emerson (Boston), Riksteatern-Sweden, Théâtre Dijon-Bourgogne CDN, Théâtre National Wallonie (Brussel·les), Théâtre Populaire Romand – Centre neuchâtelois de arts vivants La Chaux-de-fonds, DeSingel (Anvers), Künstlerhaus Mousonturm, Frankfurt am Main, Centro Dramático Nacional and Temporada Alta
From the same creator
Entre chien et loup (TA21), O agora que demora (TA19), A floresta que anda (TA17), E se elas fossem para Moscou? (TA14), Julia (TA13)
+ Info
Ibero-American connection
Brazil     

Prepara la teva funció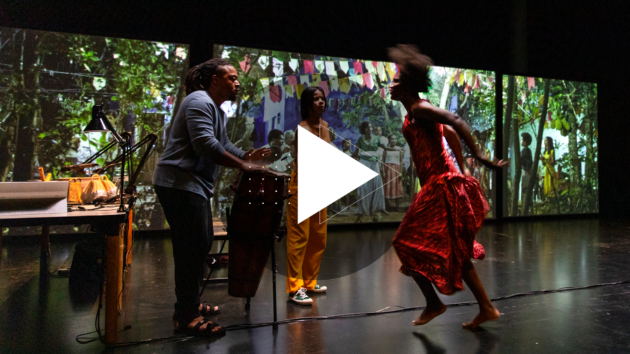 If you like this show, we suggest you...