Temporada Alta makes a firm social and educational commitment
This year we launch a new programme: A Tempo, Arts i Formació. We promote it with the aim of taking culture to school classrooms. A total of 3,690 students, 182 teachers, 28 schools and 70 professional artists participate in this project. At the same time, we maintain our social commitment, giving 2,818 tickets to social collectives. The most prominent artists this year include Alain Platel, Àlex Rigola, Romeo Castellucci, Josse De Pauw, Pep Tosar, Guy Cassiers, Elfriede Jelinek, Buika, Roger Bernat, Lali Ayguadé, Christiane Jatahy, Rocío Molina, Sílvia Pérez Cruz, Quim Giron, Oskaras Korsunovas, Mariano Pensotti, Abbas Fahdel, Carlos Marqués-Marcet and Íngrid Guardiola.
Shows: 108 (with cinema included)
Co-productions: 26
Premières: 49
Spectators: 52.753 (total) / 90,57% (tickets sold)
 Halls: 22 stages
Budget: 3.189.113,16 €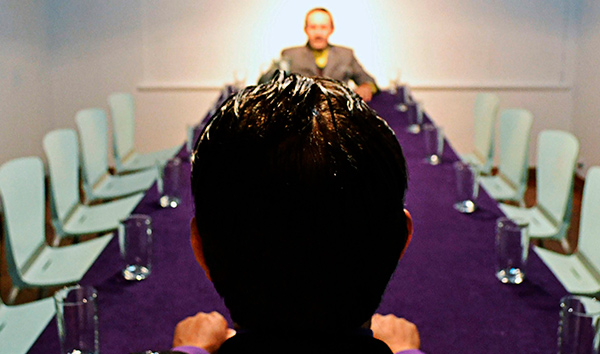 Poster 2017, Manel Esclusa
A stage: Pandora's box, or a cabinet of curiosities
Polish director Krystian Lupa tends to put a red thread across the front of the stage in his productions. Instead of a thread, sometimes he places a frame, also red. Both gestures are a warning to the viewer: what happens on the stage is more real and more frightening than the life led in the stalls, and if the spectator dares to cross these marks, he or she has to assume the consequences. When you leave the theatre, you will be another person. The image that the photographer, Manel Esclusa, has created for the poster for this edition of the Temporada Alta Festival also shows the stage as an exceptional place. It could be either a Pandora's Box, and unleash a whirlwind in the consciousness of the spectators, or a cabinet of curiosities and entertain the audience.
"The image is only points of light and the trace of the light," says Manel Esclusa. "I think of it as being linked to the world of theatre – he adds – in that they were two significant elements in the stage setting: the lighting as it had been initially, with candles and at stage level; and later, the illumination from on high, with electric light. Both illuminate a stage where as yet there are no actors from the show."
It is difficult to explain so many things with so few elements. The protagonist of the image is a ray of light, but the focus that projects it creates a space where it is still not known what will happen. And this unknown element is both exciting and dramatic. "It's about the mystery it creates and the darkness, which exists because there are lights that reveal it, just as light exists because there is darkness," explains the artist.
"The lighting defines a space and becomes the protagonist, as it provides a particular character to the scene," emphasizes Esclusa, who also explains that the lights of the poster for Temporada Alta can evoke "the beginning, the interval or the end of a show".
Although the image of Manel Esclusa for Temporada Alta is made in a theatre, it connects in a very direct way with his nocturnal photographs of urban spaces. "Photography is also a continuous balance between light and darkness," concludes the artist.
The image by Manel Esclusa can also be seen as the counterpoint to what Francesc Torres created for the festival in 2012, where he turned the movement of an acrobat almost into a wake of light. The festival maintains a continuous collaboration with the world of photography. In addition to Manel Esclusa and Francesc Torres, it has commissioned works by other photographers such as Toni Catany, Joan Fontcuberta and Josep Maria Oliveras.
Antoni Ribas
Manel Esclusa
Manel Esclusa (Vic 1952). He is considered one of the most outstanding Catalan photographers of the last decades. He came to photography when he was still a child through his father's laboratory, with whom he worked in the field of commercial photography between 1966 and 1972. In 1974 he was awarded a Photography Scholarship by the Castellbach Art Endowment and attended the Stages Internationaux de la Photograpophie d'Arles, France, where he was taught by photographers of such stature as Ansel Adams, Neal White, Arthur Trees, Ian Dieusaide, Denis Briat and Lucien Clergue. Shortly afterwards, he became one of the founders of the Grup Alabern along with Rafael Navarro, Joan Fontcuberta and Pere Formiguera.
At the end of the 1970s, Esclusa began his investigations into the nature of nocturnal light and around various aspects about the scarcity of light, themes which he still maintains today. The results of these processes of technical experimentation have succeeded in making light material, creating architectural spaces, through shadows and lighting effects, which create fantastic, dreamlike and poetic spaces.
He is an artist with worldwide renown, thanks to numerous exhibitions such as Aquariana, Gits, Ahucs, Naus, amongst others, most of them with an international reach. Currently, his work can be found at the Bibliotèque National, the Musée Réattu (France) and at the Museu Nacional d'Art de Catalunya (Catalonia); but also in many other museums and private collections. Manel Esclusa, alongside his career as an artist, has worked as a teacher throughout his life, both in workshops and in schools.
HIDE
Short film 2017, L'incendi (The fire)
L'incendi is the audiovisual piece which will launch Temporada Alta 2017.
Once again, the Festival has joined up with Nanouk Films to present this work which, in recent years, has received recognition from the sector, critics and the general public, including the Grand Laus Award (The Pleasure Island TA 2016) and the Golden Laus Award (El cant de la cabra TA 2015).This year's work, filmed at Girona Municipal Theatre, seeks to be a hymn for freedom, calling for the theatre to be a space free of gossipers. It aims to subvert the rules of advertising to present an "anti-advert" which is "free" enough to question itself, the world of culture and its audience, which, in short, constitutes the heart of the Festival. 
Salvador Sunyer Vidal, the director of the piece, declares that, when he considered what the freest form of advertising is, he came to the conclusion that it is criticism of the product advertised and, ultimately, its consumers.
Therefore, the promotional short film this year is slightly provocative; it does not seek to please everyone but, instead, generate discomfort among the audience. It is upon the basis of this unease that its goal is to involve the Festival spectators and invite them to reflect on the role of culture in general and, more specifically, the performing arts.
The director said …
At Nanouk we propose a promotional piece with its audience and the world of culture to remind ourselves that any artistic expression has the duty to gaze into the mirror and question itself. If it cannot do so, it does not qualify as such.
The character in the advert does not wear any mask to protect him and, therefore, a certain moral authority is conferred upon him. He fulfils a function of tragic divinity or, simply, a naked actor. To choose him we looked for a real person with a distant vision of the performing arts and their function. Curiously, we found him right next to Salt Theatre. He is a boy who never leaves home but always watches the people going to the theatre through the window. He has now entered the temple to candidly proclaim what he thinks.
The theme of the promotional short film is freedom and, to be free, the first thing we have to do is accept we can give it up. We must be brave and break our chains, even if they are made of gold!
Fire is the main element in this piece. Fire in the sense of an element which liberates and purifies. Only if you burn everything you think you have, and are, will you be free. A theatregoer should match up to the art he or she consumes. It is this mutual relationship which makes the level of each of them go up or down. This is the shared requirement.
In an ideal setting, the theatre is a space for collective reflection where anything goes. I would like to convey this sensation to the piece we are making for its promotion.
Fitxa artística
Script: Salvador Sunyer and Victor Santacana
Actor: Aleixo Paz Perez
Voice Actor: Lluís Soler
Produced by Nanouk Films
Director: Salvador Sunyer / 1r Direction Assistant (pre): Àlex Macías / 1r Direction Assistant (filming): Bea Hernandez Moreno / 2n Direction Assistant: Marc Ferrer Domínguez / Direction Auxiliary: Nil Fortón Pomada
Production: Anna Salgado Balderas / Head of Production: Núria Andrés Rodríguez / Nanouk Films' Production: Sandra Olalde / Bitò's Production: Agustí and Anna Rodrigo / Ajuntament Cultura: Rosa Carles
Photography Direction: Elías M. Félix / Camara Assistant: Ana Ferrón Vivas / Video Assistant: Judit Saizar Ardanuy
Gaffer: Xavier González Margalef / Maquinista: Jose Miguel Castillo Fernandez and Jose Ramón García Martínez / Tècnic Teatre Municipal: Txema
Art Direction: Judit Ferrer Gimeno / Graphic Design: Francisca Torres
Sound Design: Oriol Bonals Liso / ASound Mix: Martí Albert
VFX Supervisor: Sergi Rejat and Martinez
Fitter: Victor Navarro Diago
Colorist: Lluís Velamazan
Suppliers: Service Vision (camera), Service Vision (light), Service Vision (machinery), Nasa FX (effects), WRS (walkies), Coser y Cantar (sound), Ricard Hidalgo (production), Galan Rent a Car (vehicles) and CineVent (insurance).
Extras: Antonia Roger, Montserrat Tomeu Manzano, Carme Sabater, Lluïsa Camps Parella, MªRosa Quintana, Martí Guillamet Jou, Carme Sedano Noguera, Mayte Casamitjà, Anna Pulido Sanchez, MªLluisa Alorda Esquinas, Maria Paula Güidi Sassano, Anna Daniel Cases, Glòria Polls González, Zoraida Pico Valderrama, Rosa Martí Poch, Marycielo Giron, Solymar Jaimes, Carme Pintó Curras, Elena Noguer Rubiola, Núria Masaló, Pere Figueras, Francesc Garcia Sagrera, Carme Gros Córdoba, Joan Cervera Morell, Magda Ruiz Exposito, Matilde Campmajo Sansanedas, Adela Cuenca Martínez, Raul Gonzalez Bautija, Ricard Camó Campillo, Joan Luis Prado Bastante, Marina Angelica Saldaña Santivañez, Montse Cordero Rodriguez, Montse Alabert Rius, Amelia González, Maria Gracia Salas Torreblanca, Maria Rosa Sánchez, Antonia Vilaplana Moreno, MªLluisa Riera Ros, Conxi Beser, Núria Ripoll Solé, Carles Borrell, Lluís Torner i Calillo, Magdalena Fiam, Francisca Piló Borrega, Carles Duran Batlle, Miracle Sala Farré and Mª Dolors Rodí.
HIDE
Public survey
The pricing policy and purchasing habits, the commitment and fidelity of the audiences and the fact that the Festival is a tool of tourist, economic and cultural dynamism for the region, were the main conclusions drawn by the survey Temporada Alta 2017 carried out amongst 1,700 people registered in its database.
The questionnaire was sent out on 6 December 2017, with the aim of making improvements to future editions of the Festival and of establishing new ways of communicating with audiences.
Main findings of the survey:
99.7% of people who responded to the survey will return to the next edition and 99.8% said they would recommend Temporada Alta to their friends.

Only 12.5% of respondents were against price flexibility.
7 out of 10 people who live outside the Girona area had a meal at a restaurant in the area before or after going to a production.
75% of the people who answered the questionnaire made use of one of the discounts available to them.
Alta Temporada is associated with the following terms: "Magic", "Joy", "Necessary", "Closeness" and "Enriching", among others.
HIDE