Temporada Alta is 20 years old
We maintain our upward course in terms of the number of shows and the quality of many of the premières. The total number of spectators increases considerably, as does the percentage of ticket sales. This year we attempt to explore new paths to influence the future lines of action with El Canal and we create the Catalan Dramaturgy Tournament. We are visited by artists such as Daniel Veronese, Mario Gas, Pau Miró, Krystian Lupa, Marta Carrasco, Cristopher Marthaler, Sílvia Pérez Cruz, Jordi Galceran, Jordi Casanovas and Carles Santos, Ricardo Bartís, Propeller, Lev Dodin and Les 7 doigts de la main, among many others.
Shows: 89 (+ cinema)
Co-productions: 31
Premières: 56
Spectators: 68.635 (total) / 93,33% (tickets sold)
Halles: 13 (+ cinema)
Budget: 3.026.306,29 €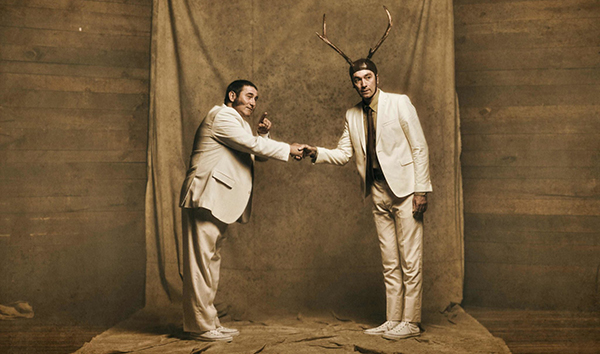 Poster 2011, Santi Moix

 
Captivation, consistency, clarity. A constant personal voice and, at the same time, developing one's work. The premises Santi Moix refers to as the bases of his work can also be heard from the mouth of a stage director. And, if the truth be told, Moix would in fact, like to stage an opera. Turandot or Tristan and Isolda, for example. He would do it just to get out of his study; to flee from the many hours that an artist spends working completely alone; to have fun. He would probably take great delight in talking both to singers and technicians. He might even tell them that he once met Fellini, another theatre and circus buff. Apparently, they met in Italy, when he was just a teenager with an extraordinary gift for drawing. And even though his painting is abstract, he hasn't stopped drawing.
The poster he has created for the XX edition of the Festival Temporada Alta – Festival de Tardor de Catalunya combines these two facets: the abstract and the figurative. He'd been trying to put them together for years but had never quite found the right moment. Until five years ago, that is, when he was working on a set of pottery in Morrocco, and he came across donkeys carrying all sorts of wares. The result? A surprising series of paintings showing the backside of donkeys as the centrepiece (a detail that great masters like Velázquez enjoyed painting and that showed their expertise, says Moix), pictures full of the shapes characteristic of his style. A little later he did a series of engravings on Quijote. The characters he has created for the Festival poster seem to be inspired on the multitude of characters in these engravings, and on those that inhabit the watercolors he has produced for an edition of Hucklelberry Finn, by Mark Twain. Joan Junceda, Picasso, Dalí, Miró, Goya and Delaxroix…….the list of artists that have inspired him is huge. The choice of Santi Moix to produce the poster for the XX edition of Temporada Alta can be interpreted in many ways. His works, like theatre, are simple and yet voluptuous, flamboyant. They are modern but have travelled far before reaching their destination. The sleeping face he has drawn amongst the other figures in the poster, like forgotten ruins at the bottom of the sea, dreams of works that must still be written and painted.
Antoni Ribas
Download poster

HIDE
Short film 2011
This short film focuses on public and his necessity of catharsis. It talks about the primary necessity which move men to make theater, as much in the past, inside the prehistoric caves and Greek theaters, as in the present. The spot covers and empathizes the long list of face and body's expressions which every public show thoughtlessly and mechanically. A wrinkled nose, an eye who doesn't want to look, some teeth destroying a nail, a tear we would like to dissimulate or a natural and childish smile that is not afraid of showing an uncertain denture…
An empathy or, in other words, a fascinating visual experience in which everybody sees themselves reflected. All this travel about body language could be also a reverse travel during history, where every person and face represents an historic stage till the prehistory.