A well-established festival
This year the tickets for 71 performances are sold out, leading us to increase the number from 112 to 127. The momentum of Catalan artistic creation is embodied in 18 co-productions, of which 7 are world premières.
Temporada Alta is attended by artists such as Alain Platel and Frank Van Laecke, Krystian Lupa, Jan Fabre, Claudio Tolcachir, Guy Cassiers, Edward Hall, Wajdi Mouawad, Peter Forman, The Tiger Lillies, Carles Santos, Joan Ollé, Albert Pla and Pascal Comelade, Lluís Pasqual and Michael Pennington.
Shows: 76 (+ cinema)
Co-productions: 21
Premières: 43
Spectators: 52.808 (total) / 90,37% (tickets sold)
Halles: 12 (+ cinema)
Budget: 2.835.749,01 €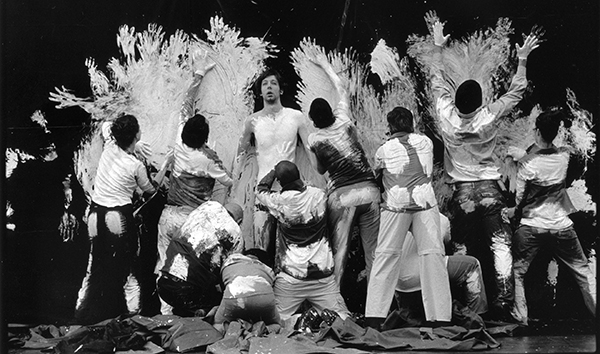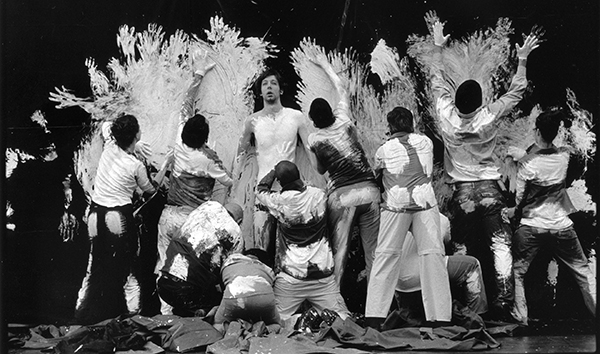 Poster 2010, Eugènia Balcells
Today, as in the 70s when she began her artistic career, light is still the indisputable center of interest of Eugènia Balcells. In Freqüències, the exhibition presented in Arts Santa Mònica at the end of 2009 and about to start its tour, light is presented to us as an essential form of energy that not only shapes the universe but is also the tool that enables us to perceive and represent it.
The installation Freqüències -which has given the name to the whole exhibition- has been generated from laboratory images. The signs that identify each element in the periodic table are the result of scientific research that seeks to become familiar with the nature of matter. In the hands of Eugènia Balcells, however, this information is transformed into raw material which she uses to build up a metaphor on the constant recreation of the visible universe. Her interest in grasping and transmitting energy which generates and transforms life can be perceived in the interwoven strands of colour white light breaks down into.
When contemplating Freqüències, viewers are alternatively confronted by the force which has created light and what their memory retains about their life. In overheard conversations of visitors, names like Giotto, Titian, Velázquez and Rothko intermingle with the concepts of the periodic table, emission spectrums, wavelength… Their comments suggest that we see what we know, even when what we are looking at is light, the very source of our ability to see.
An exquisite sensitivity and a limitless curiosity for scientific and technological progress is modelled in this exhibition by Eugènia Balcells, who began her academic life studying architecture and today repeats with satisfaction: "There is enough randomness in my work for even me to be a spectator." The poster the artist has created for the Temporada Alta Festival is the natural offspring of the research process Eugènia Balcells is still immersed in. How the graphic proposal took shape, what relationship she has with her work and the intersection between her multimedia installations and her collaboration in the theatre are the subject of a discussion that will be held on 22nd October in the venue.
Eulàlia Bosch, guardian of the exhibition Freqüències
[Eugènia Balcells has just been awarded the Premi Nacional d'Arts Visuals de la Generalitat de Catalunya 2001 for Freqüències]
Download poster

HIDE