Desde el año 2017, A Tempo – Arts i Formació contribuye a conectar el mundo de las artes y el mundo de la educación en las comarcas gerundenses. Su apuesta continúa siendo la de tejer vínculos entre el mundo educativo y el mundo artístico con la voluntad de formar a profesionales del ámbito de las pedagogías culturales, facilitar el acceso y la participación activa de los jóvenes en la vida cultural y fomentar procesos de innovación docente a través de la interrelación entre profesionales de la cultura y de la educación.

A Tempo desarrolla una serie de actividades gratuitas pensadas para todos los ciclos de primaria y secundaria en el marco de Temporada Alta con el objetivo de vincular las artes escénicas con el mundo educativo. Ya se han abierto las inscripciones a:
Temporada Alta a l'Aula:

espectáculos que se programan mayoritariamente en las mismas aulas de las escuelas durante el primer trimestre del curso escolar para tratar temas relacionados con el desarrollo personal, como el autoconocimiento, la empatía y el respeto a la diferencia, y otras de actualidad como la consciencia sobre el bullying o la cultura de la paz.

Artistes a l'Aula:

artistas o compañías que participan en la edición del Festival van a las aulas para trabajar competencias sociales, musicales, de lectura, escritura, expresión física o creativa, según las necesidades del grupo o el artista.
¿Quieres participar?
¿Qué hay que hacer para inscribirte y solicitar las actividades de A Tempo en tu escuela, instituto o ciclo superior?
Solicita la actividad 

aquí

antes del 30 de septiembre marcando tus preferencias
Nos pondremos en contacto contigo para confirmar las fechas
Te enviaremos un dossier orientativo y los derechos de imagen para que los firmen las familias
 Unos días antes de la sesión, es importante que puedas preparar al alumnado para la actividad
Disfruta de la experiencia!
Otras actividades para escuelas e institutos
Más allá de dar apoyo a las escuelas en diversos proyectos educativos, hemos empezado a trabajar, junto con la Fundació La Ciutat Invisible, en varios proyectos Escuelas Tándem. El objetivo principal de los proyectos es poner a trabajar juntos un centro educativo y una institución de referencia durante tres cursos, con el objetivo de singularizar una escuela o instituto en el marco de un proceso de innovación.
La relación entre la Fundació La Ciutat Invisible, Temporada Alta y los proyectos Tándem se iniciar el curso 18/19 con el desarrollo de la primera alianza entre el festival y el Instituto Salvador Sunyer de Salt. Este próximo curso, la iniciativa se amplía en cuatro centros educativos: el Instituto Salvador Sunyer, la escuela de Font de la Pólvora, la escuela de Vila-roja y la escuela Sagrada Familia.
Motor of creation
We collaborate in the production or co-production of a large part of the shows that we premièred during the Festival. We consider that this line of productions is an indispensable tool for placing Temporada Alta and the Catalan scene at the centre of the European and international scene. We want to stimulate performing arts creation, become a nerve centre of the country's dramaturgy and increase the international presence of Catalan shows. We weave alliances and complicities with companies and producers, with public and private theatres, national and international. We follow a production line dedicated to contacting international directors such as Kristian Lupa, Guy Cassiers or Claudio Tolcachir with Catalan artistic and technical teams. We collaborate with institutions, festivals and agents around the world. And we have managed to position ourselves as one of the main creative and productive motors in the country.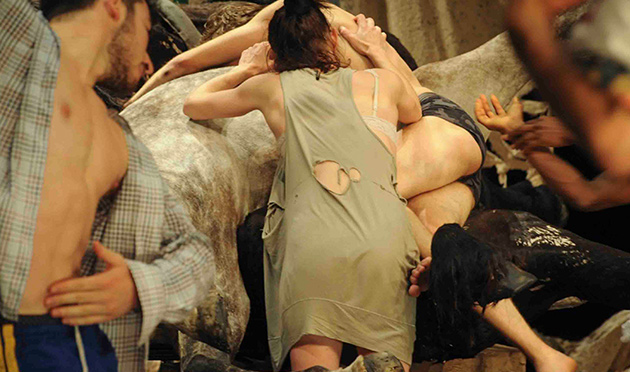 En ediciones anteriores...
En la última edición participaron un total de 34 centros educativos, 6.472 estudiantes, 657 docentes y 87 artistas a lo largo de nueve meses, de octubre a junio. Este año, el proyecto no aspira a crecer numéricamente sino a consolidar las relaciones ya establecidas, ya que, si bien aprovecha un marco único como es el de Temporada Alta, las acciones de A Tempo tienen una continuidad más allá de la duración del festival.
Para más información sobre el proyecto contacta con el equipo de A Tempo a través de este correo electónico: atempo@ciutatinvisible.org